What to talk about with a girl on a first date: 10 tips
More often than not, first dates are ridiculous, embarrassing, and stressful. You are trying to show yourself better than you are. At the same time, you are talking nonsense, and it looks sad. You don't know what to talk about with the girl.
It's even worse if you have nothing to talk about. You are so shy that you take awkward pauses. What can you talk to a girl about on a first date?
Be original.
What kind of date is this in her life? What do you think she discussed with the other guys?
You don't need to talk to a girl on a date about work, family, home and other banal bullshit.
Remember that the task is as follows: you have to surprise the girl, hook, fall in love with you and stand out favorably against the background of other guys.
Be emotional.
It doesn't matter what to talk about on the first date, HOW is important. Women are emotional. And she came on a date for emotions.
From the presentation of information, perception changes greatly. You can tell an interesting story for a long time. Or you can serve a banal thing with such a sauce that it will be remembered.
Be literate.
Don't use slang and, ideally, swear words. Avoid parasitic words, put stress correctly. And in general, you have to be handsome in everything. Your speech must be beautiful, clear and literate.
A beautiful speech speaks of being well-read, education. This is a good plus for you. Especially at the first meeting, when she is not yet sure who is in front of her: a normal man or another asshole.
Talk about yourself and her.
At the very beginning of the conversation, it is better to tune in to the confidential wave. Tell us a little about yourself and find out about her. Ask non-standard questions, reveal her as a person. And myself at the same time.
It is important to talk calmly, not to allow pauses. Don't be stupid!
Ask the right questions.
The correct question is one that suggests a detailed answer. Avoid questions that can be answered yes or no. Think in advance what you could ask her about when you first met.
It is interesting and will reveal you to each other.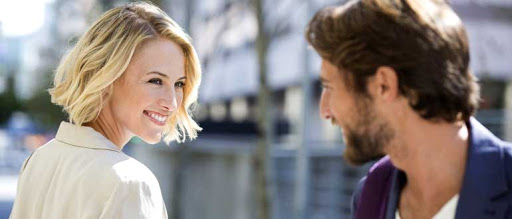 Get ready in advance.
You can't predict the outcome of a date. Think of a couple of stories that you can tell, if that. Suddenly, she will be reluctant to answer questions, or you will do it.
Choose funny and true stories. If you managed to make her laugh when you met, everything is going well.
Imagine.
Don't be trivial. Ask questions from the "what if" series.
"If tomorrow was the last day of her life, what would she do?", "If she became a man for one day, what would she be?"
This will show her creativity and characterize you as a very interesting conversationalist. You can rest assured that this is the part of the date she will love.
Play.
As an option. On a walk, you ask each other absolutely any questions in turn and answer them honestly.
This will add some excitement to your date. And it will help you gain her trust. You have no right to lie. Ask tricky questions. For example, "What did you think when you first saw me?", "What quality of mine do you like?"
Don't go and don't ask intimate questions, it will be unpleasant for her.
Listen to her.
Show that you are interested in what she says. Ask clarifying questions, react emotionally. It is important for a girl that her story or story gets the right response.
Do not dig in your phone and do not be distracted by extraneous things when she speaks.
Be as natural as possible.
If you have thought in advance what to say to the girl, serve it so that it looks natural.
And the main advice is that you need to work on yourself. Read new books, attend lectures, trainings, try to broaden your horizons as much as possible. Conversation topics will appear along with filled life.