ISOLATION KILLING ROMANTIC? 7 IDEAS FOR HOME DAYS
Stop walking around the apartment with sour faces.
If you and your girlfriend were locked up during self-isolation, this can be a real challenge for your relationship. Being alone with each other around the clock without the opportunity to relax with friends is not easy.
Moreover, after a few days in such an atmosphere, it becomes almost impossible to think about romance. And just at that moment, both of you should escape from everyday worries and disturbing thoughts and go on a date. Without leaving the apartment, of course. Here's how to do it.
Candlelight Dinner
Indulge your beautiful companion with a special dinner that she will never forget. Make something special – like duck fillet with demiglass sauce.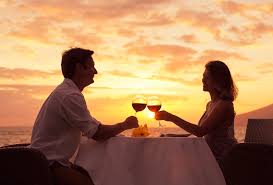 Get the candles from the farthest drawer, turn on soft music and uncork the best wine found in the minibar (walk like walk). For serving, do not regret the very dishes that your parents presented in case the Queen of England comes to see you and do something completely unprecedented – they covered the table with a tablecloth.
When such events happen without any reason, they are usually remembered better than standard "Valentine's" dinners – moreover, for both of you.
Make some cocktails
Drinking a bottle of wine together, sticking to the series, is, of course, nice, but why not treat yourself to some kind of albeit home-made, tasty cocktail?
This can even be turned into a mischievous role-playing game – invite her to put on her favorite dress, and reincarnate as Tom Cruise from the movie "Cocktail" (most importantly, don't drop anything and don't break anything). And who of you whom will fascinate and seduce – decide for yourself.
Create your own playlists
Still having sex with a special selection from iTunes? It's time to feel like DJs and collect those tracks that start and create the mood for you.
You can go even further and prepare playlists for each other at the gym, car trips or as a reminder of your sweetheart as a gift for each other when one of you later leaves on a business trip.
Play board games
If you still do not have them, then it's time to order something in some online store. Sounds boring? Then play twister naked or purchase special games for couples with "hot" rules and tasks.
Spend the night in "another country"
The borders are locked, but that does not mean that you can't "travel" a bit without leaving the apartment! A night in Italy can include homemade pizza, a bottle of Chianti, ice cream and an Italian-themed film, such as Life Is Beautiful, or some comedy with Adriano Celentano.
Other wonderful "destinations" that make it possible to enjoy a duet of delicious cuisine and interesting cinema are Japan, Mexico or France.
Cook something in the kitchen together
If you don't want to take on the burden of cooking great food alone, head to the kitchen together and try to create something new and different. Choose a dish that you haven't prepared before, but which you love to order in a restaurant.
How about curry? Or, perhaps, dare to make a tiramissu? Even if the result is very remotely resembling a dish from a chef, you will surely have fun while you try your hand at the intricacies of culinary art.
Have a movie marathon
Just watching movies you probably already fed up with the hell. So let's raise the stakes. How about deciding on a real challenge and having a movie marathon next weekend?
It can be all pictures from a movie universe (from Harry Potter to all Marvel films) or the work of your favorite actor or director. Stock up on a bag of popcorn and get started.
The best case scenario? You will see them all in one breath and be proud of this achievement. At worst? Fall asleep right on top of each other.