"Two rolls of toilet paper in one hand." Londoners empty store shelves
"Please think before you buy," reads a large ad at the entrance to a huge supermarket in southeast London. Behind the entrance are empty shelves of the vegetable department, then empty shelves of meat rows, and so on. No calls help.
In Britain, quarantine has not yet been announced and borders have not been closed, but London residents, preparing for the worst, began to sweep food and toilet paper from store shelves in the mornings, a few minutes after the opening.
"I don't understand these people. I don't buy anything and I told my wife not to buy," said Walid, a security guard at the supermarket. everything is in order. But they all the same … "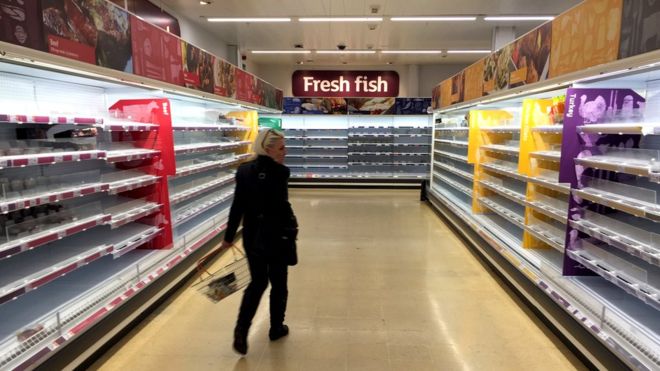 "Please Think" – asks London supermarket chain
Wednesday afternoon at this supermarket — one of Britain's two main chains, Sainsbury's — is no longer just meat and vegetables. Empty and many-meter shelves of canned goods, pasta, bottled water and bread, usually breaking from the goods.
"Oh my God. Like locusts!" – the young Englishman mutters mournfully in the far corner of the huge hall, near empty freezers, where there were always chicken, fish and frozen vegetables.
There is no toilet paper and kitchen napkins either.
According to Valid, people did not show any particular aggression in his supermarket, but this consumer panic leads to someone not getting something.
Therefore, this supermarket introduced a one-stop sales rate. No more than two units of the most popular goods. Two packs of spaghetti, for example, or two packs of toilet paper.
In addition, according to Valid, they are going to let in only the elderly people in the first hour after the opening, from seven to eight in the morning, so that they can buy the most necessary things relatively calmly, without crowding and huge lines.