The excitement in supermarkets because of Covid-19. Why are people panicking?
Photos of empty shelves and huge lines in supermarkets filled social networks. In Australia, the USA, South Africa, Britain, and Russia, people talk about food shortages.
The lists of these products in different countries are almost identical:
Antibacterials and hand soap
Toilet paper and napkins
Long shelf-life milk
Pasta
Canned vegetables
Rice
Soap
Cleansing Fluids
Painkillers
Many countries also have restrictions on the sale of alcohol.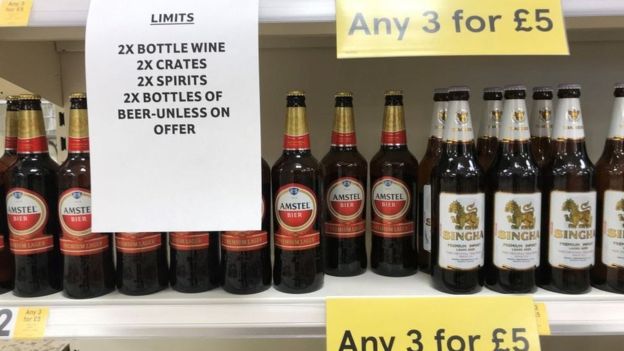 From country to country, the list is changing, but slightly. In the USA, for example, there was a rush of demand for weapons and gas masks. In Australia, too, they are buying up weapons and ammunition and not enough meat and vegetables.
Authorities are asking people not to succumb to consumer panic. In Britain, store managers ask shoppers to behave wisely, but exhortations do not help.
Excessive demand affects the behavior of people in different countries and forces governments to take measures to protect goods, shops and their personnel. At the same time, an unexpected shortage of toilet paper and canned goods leads to strange situations.
Australia: landings in regions and racism at the box office
On Thursday, Australian Prime Minister Scott Morrison asked citizens to stop buying so many goods.
"Stop. It's unreasonable, it doesn't help," Morrison said, adding that he was "disappointed" by such behavior of the Australians.
At the same time, Morrison announced the extension of the ban on gathering groups of more than one hundred people and said that these measures could last "at least six months […], maybe much longer."
Australian supermarkets were among the first to experience the effect of the rush demand due to Covid-19. Shops have to go to extremes.
Buyers from megacities come to stores in smaller cities and buy products. To counteract the "landing" from Melbourne, the owners of a supermarket in the small town of Riddels Creek, 60 kilometers away, were forced to hire security guards who now do not let visitors from the state capital into the store.
A cashier at one of the Australian supermarkets said that people in stores frustrate each other's stress.
"I see selfishness, aggression, racism, intolerance and a complete lack of respect towards other customers. Yesterday I served a customer with glasses and a mask, Asian appearance, and my colleague served a man. This man kept humiliating my client, saying that "He doesn't believe that they are allowed to cover their faces like this." Similar things are said about those who wear Islamic hats. When it came time to pay for the purchase, my customer cried, "he said.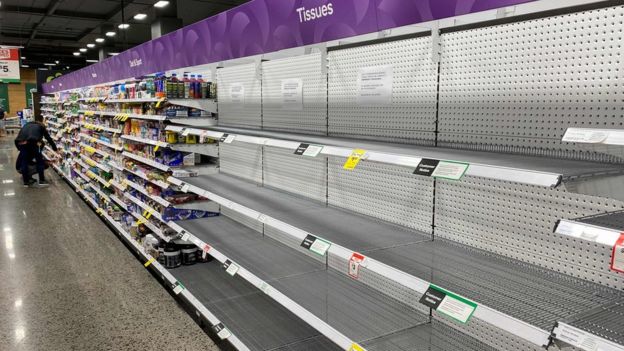 USA: weapons, gas masks, black market
Residents of the United States have been buying toilet paper, cereals and canned food for more than a week. As in many other countries, in most stores there are restrictions on the sale of rolls in one hand.
Some Americans managed to buy hygiene products for the future, after which they began to resell them with a large margin. The most striking example is the heroes of the New York Times publications, the Colvin brothers, who traveled around stores in Kentucky and Tennessee and bought 17,700 bottles of sanitary gel.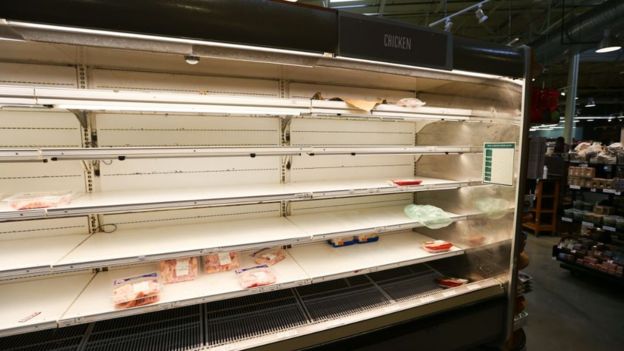 The brothers began to buy goods on the first of March, immediately after the announcement of the first death from a coronavirus in the United States. They drove 1300 miles, emptying the shelves, but managed to sell only a small part. A state of emergency was introduced in Tennessee and laws prohibiting price increases came into force. This week the brothers donated all the goods they bought.
In the USA, amid coronavirus, demand for weapons and ammunition unexpectedly increased.
"When the economy is bad, people buy weapons," the manager of a gun shop in Rockville, Maryland, told our correspondent.
The most popular in his store are 9 mm pistols, pump-action shotguns and AR-15 semi-automatic rifles, various models of which cost from 600 to 1200 dollars. Hunting rifles are almost not in demand.
"Many people buy weapons for self-defense, believing that this crisis will be accompanied by increased crime and robberies," Joel Green is convinced.
What is panic buying?
How did it happen that toilet paper became a symbol of stability in times of crisis, why do people think that it is necessary to have as much as possible, and how will it end?
Psychologists interviewed by the world media say that the problem is the need for a sense of control over the situation. People lose it due to news about the coronavirus.
"The sense of anxiety is largely rooted in a sense of suspense and the expectation that something will happen. Coronavirus is the same thing, but on a macro scale," said a spokeswoman for the Mind charity, which helps people deal with mental health problems.
In cases of crises caused by epidemics, people "have no understanding of either the time frame or the severity of the situation. And every day we get signals that we need to panic and buy more than necessary," said an expert on consumer conduct from University College London Dr. Dimitrios Tsivirikos.
At the same time, the size of the purchased goods is important for a sense of comfort, he said. This partly explains the desire of people to buy large and noticeable on the shelves of packaging with rolls of toilet paper.
"If we had an international sign indicating panic, it would be a road sign with a roll of toilet paper."