Coronavirus: how not to go crazy with the whole family in isolation
According to one of the mothers, who was isolated with their families in the family, even if they just read and write with their children at home, this is enough to fill the gap in the school curriculum
"Whatever the conditions we live in – in a large six-room house or in a two-room apartment – it will soon begin to seem to all of us that the space around us is shrinking," says Eloise Rickman, a home education specialist.
The feeling of crowding is just one of the factors that families face in their isolation.
The British authorities advise all family members to quarantine if one of the relatives felt unwell. On the eve, schools were also closed, which means that children will be at home in the foreseeable future.
"Very strange times have come. We are trying to overcome them and not lose our temper," says 34-year-old Annie Reedout. She and her husband and three young children are in isolation after two of the children develop symptoms of coronavirus.
Usually Annie conducts online training courses for groups of different ages, now she pays special attention to her school children, compiled a daily schedule for them.
"The hour of mathematics is led by my husband in the mornings. Then the hour of reading and writing. We will definitely take time for creativity, draw, for example. Then time for playing in the garden – digging, getting dirty in the mud. This is the daily minimum," says Annie.
According to her, at first she planned to take intensive lessons for half an hour, but gradually the schedule became less rigid, the main thing is to do a certain amount of work every day, without time limits.
"We had to introduce a more flexible schedule, in particular, to take for granted that they would want to watch more TV," says the young woman.
Another mother from London, Eloise Rickman, agrees that having a schedule is very important, especially for children who have already gone to kindergarten or school and are used to some daily routine.
"Children need the predictability of events, especially when the circumstances around them change so rapidly," says Eloise Rickman.
She also began to educate her children at home, but believes that the schedule should not be tight. Her method is this: make a plan for daily or weekly classes, read it to the children, coordinate and attach to the wall so that everyone can check with him.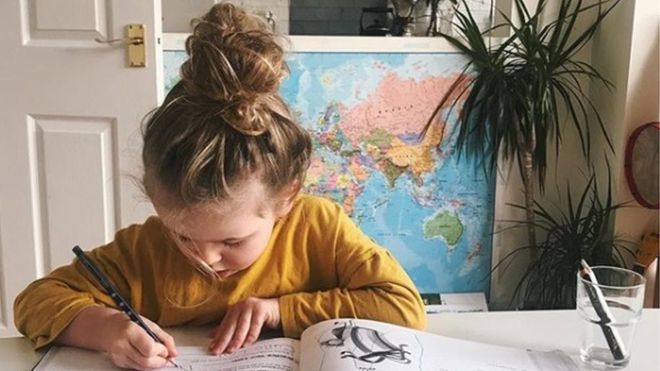 "On Wednesdays, for example, you can plan to watch a movie with the whole family. Teenage children need to set aside time to chat with friends on Skype," says Rickman.
Zubeida Dagupta, an educational psychologist, also emphasizes the importance of the system. She and her family are also in isolation in one of the cities near London.
"It is known that when people find themselves in a situation of uncertainty and stress, they need some predictability, a structure of behavior. This helps," says the psychologist.
"Although most children are delighted that you can't go to school, actually playing for weeks or even months in computer games may not be so fun," says Dagupta. "A balance is needed: structured classes with breaks for games and fun. "
As for the school curriculum, many schools are ready to post lessons and assignments on the Internet.
The current situation is a big challenge for schools and parents taken aback, the education system in Britain in its recent history has never encountered this, says Eloise Rickman.
"However, I received messages from several families I knew that said they had wanted to try home schooling for a long time and are now enthusiastically ready to figure out what it is," says the mother of the family from London.
In her opinion, the most important thing in home schooling is family relationships. Often, brothers and sisters of different ages are not used to being at home together all day, and the time of self-isolation is a good reason to strengthen relations in the family and get to know each other better, says Rickman. Although, she warns, this may not be such a smooth process.
It is important that parents find time for one-on-one communication with each child.
It is also important to remember that the period of self-isolation does not require additional investments, and you can still take care of the environment.
A classroom for everyone can be arranged in the living room. For drawing and modeling, you can cover a coffee table with a regular newspaper, and adjust a mug for pens and pencils. You can even rearrange the furniture.
"If you don't want the children to watch TV five hours a day, maybe you should move it? Or even move all the tables to the wall so that the children can run? This is especially true if you live in a small apartment," advises Rickman .
We also need to prepare ourselves for the fact that during this period, when all the children are at home for days on end, a mess will reign in our housing.
And it is very important to remember that studying at home is not a duplication of school at home. No need to do six hours, as in school. Your classes will be held with the child one on one, which means they can be shorter and more intense.
Self-isolation is a test not only for children, but also for parents.