Where and how to date a girl?
Perhaps every guy dreams of a perfect first date with a new girl. Planning it is not an easy task. But the reward will be a good time together. It's time to figure out how and where to have a date with a girl, so that a second and many other meetings follow.
Communication Categories
To get started, it's worth understanding that going on dates is always a combination of luck, trial and error. Much depends on the ability to show oneself. Everything happens in their own way for everyone, and you cannot choose any one right way. But only practice will help you understand which combination is right for you.
In fact, there are two categories of first dates: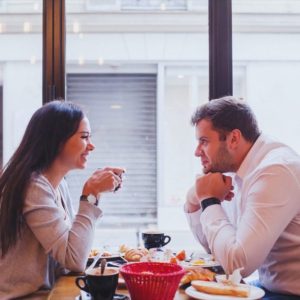 Meetings with girls whom you have never seen live before and with whom you may not even have talked on the phone. These are those with whom you met on the site or through the application.
Meetings with girls who have already met live and talked. This may be a classmate, barista, a pretty new neighbor, an old friend, relations with whom began to take a different turn.
Consider where to go and how to behave in each case.
How to make an ideal date with a girl from the Internet?
Go to the cafe with her. Yes, it is commonplace, but the process of joint absorption of food actually unites. In addition, you can safely leave after 20 minutes if the appearance or personality does not match the profile on the page. If everything is okay, then go ahead and invite her to go somewhere else, for example, to a movie or to a street performance.
How to ideally have a date with a girl – rules of conduct:
Do not make her feel uncomfortable. Imagine, she, too, is nervous and afraid, she has her own expectations and hopes for you. Try to understand this and accept.
Get to know each other. The girl's personality often differs from what they managed to find out about her in correspondence. That is, on the first date, you'll have to start a relationship from scratch, so you need to spend time and effort. Do not expect everything to happen automatically, since you chatted so well.
Establish mutual understanding. The first date should be the launching pad for great and better moments. Use this opportunity to explore your "connection".
Enjoy the moment. Date trips should be fun. Enjoy the process of recognizing someone and experiencing various situations and emotions. But do not forget to be yourself, it is much more attractive.
Date with an already familiar girl
In this situation, you feel much more confident. Of course, you want to spend more time with this person, so you can more responsibly approach the organization. When thinking about a date with such a girl, remember the important components of an ideal meeting:
Accessibility: Serious steps and their corresponding high expectations can be repulsive. Let everything be simple and ordinary. This will create the right atmosphere. You won't have to regret much about the time and money spent if the romantic evening doesn't go as planned.
The ability to communicate freely. It would be tempting to invite her to a concert, to a movie, theater or bowling, this is not the best place where you can spend your first date with a girl you like. The point is to get to know each other better, and too crowded or noisy rooms will not give a chance to speak or listen.
The ability to communicate face to face. Yes, guys like to be side by side, but women like to make eye contact. And he plays a huge role in attracting attention. So do not choose activities like skiing or biking on a narrow path.
Novelty. How to have a perfect date with a girl? Do not go where you usually spend time, for example, in a bar. A new activity or place makes you excited and trembling in anticipation of the unusual.
A background that allows you to maintain a conversation. Advice – an awkward silence can be avoided if there will be a lot of interesting things that can be discussed.
Where to go on a date with a girl?
A romantic evening should bring pleasure. It is important to choose the right place. Where can I spend my first date with a new girl? Of course, if you are in Moscow or any other big city, there are tons of options.
For example, try to organize a trip with her to the museum. This is a wide range of topics for discussion and the opportunity to seem uninitial. Another option for a safe and enjoyable pastime is a game of minigolf. In the West, by the way, it has almost become a cliché. We are only gaining momentum. This is a chance to laugh, compete and be close enough to each other. And then you can go and reward the winner with ice cream.
Another non-banal option is a master class. For example, in pottery or cooking. This is an amazingly fun activity and creative process that brings you together.
If the weather and time of the year allow, organize a picnic. Firstly, you will show your skill and ingenuity in collecting food that you bring with you, as well as choosing a place (especially with a beautiful view of the sunset). Secondly, nature is an incomparable background for a date, because it causes a lot of positive emotions.