Why are good guys bad?
There is such a thing – a "good guy." And by and large, representatives of both sexes understand it approximately the same. A kind of virtuous and conscientious type. Respectfully for women, old people, children, and Chihuahua dogs.
A good guy is calm and attentive. No addiction to harmful substances. Not prone to villainy and crime. In short, a kind of positive hero in all respects – especially if you put him on the same line as patlat bikers, hipsters, hereditary womanizer women, etc., in general, all that rabble that usually winds around pretty girls.
If you heard notes of sarcasm in my tone, then in vain. I sincerely sympathize with the good guys. However, like any girl who understands life, she is over 25 years old. But, it should be noted that this understanding does not come to us women immediately. What beginners are not getting tired of lamenting about, because their sex and love biography really usually begins extremely dramatically and joylessly.
I will not hide, there is such a thing. Yesterday's Graduation Queens is nice and interesting to chat with a good guy, but as soon as it comes to night walks, the bruising of knees and other vulgarisms, the girls, as if by whistle, switch to "bad guys" – rude, inattentive, not calling back, shamelessly sticking to their best friends and even their mothers, dangerous, risky, without the measure of smokers and drinkers, etc. Than, of course, throw good guys into the abyss of despair. Some people even try to bombard glossy magazines with questions like "Who is to blame?" and "What to do?"
"Wait about 5-7 years, my friend, there will be a holiday on your street as well," I usually answer, and these are not just soothing whispers. The relations of guys with the opposite sex mysteriously improve when the girls begin to look around to find not only a golden "visa" and a brutal profile, but the future husband and father of their children. This usually happens after the celebration of the 25th, and in especially neglected cases – after the 27th birthday.
This is where the finest hour for the good guys comes, because the Prom Queens suddenly agree to give a telephone and dine on Friday, and even, for example, go together to a holiday home. And then everything usually develops according to a similar scenario: beautiful courtship, reciprocity, the decision to get married, dolls on the hood – and now, a good guy is already equipped with a legal wife, and, as a rule, one that can only be envied.
But I really didn't want to talk about it. And about how the Queen of Graduation of their guys see after they marry wedding marches and family life acquires a kind of stability. More precisely, than they may be unhappy despite the fact that they will objectively be happy with their choice.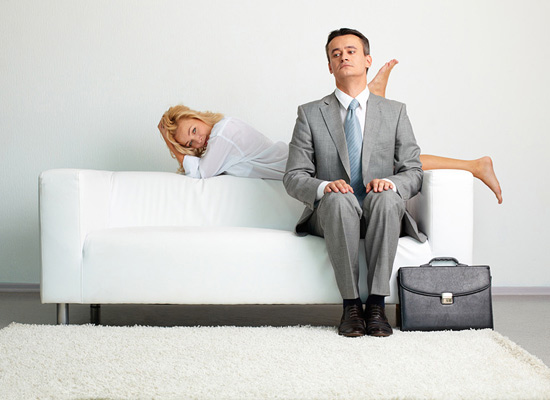 SO, YOU ARE A GOOD GUY, AND MEANS, IT IS COMPLETELY PROBABLY THAT …
… your Queen will be at times discouraged
Like it or not, she's used to being the center of attention, shining, flirting and witting, and you don't even have an elementary habit of going out, not to mention the skill of communicating with this kind of women. And it is in your common interests that you recognize the need in time and learn to give her a reason to get your crown from time to time.
… you go overboard with foreplay
Kissing the necks and wrists, multi-series cunnilingus and foot massages are certainly good and pleasant. And, as practice shows, you, dear, have a real talent for this matter. But sometimes, about once out of ten, a woman does not want to be licked from head to toe. She wants to do without any preludes, so that she is banally bent over the back of the chair. Just like in the days of stormy youth
… you react poorly to criticism
The conviction of their own infallibility and exemplary exponents makes the good guys immune to any reproaches. Including fair. "I do my best. I do everything honestly. How can anyone be dissatisfied with me, such a great guy ?! " – the guy is perplexed. On the one hand, of course, you have plenty of reasons to be proud of yourself. But on the other hand, in this situation, you run the risk of mutating over time from a good guy (an exemplary family man and a responsible employee) to an extremely unpleasant type – a snob and a dummy who hears only his opinion and nobody else.
… you lag at the end of the career ladder
Perhaps because you choose classes to your liking at the expense of their profitability. Perhaps due to a purely reluctance to intrigue and participate in undercover games. And maybe both taken together. One way or another, you risk remaining in the status of a "perspective shot" right up to retirement, which, the stump is clear, will become a big disappointment for your life partner, who was promised a bright and materially secure future.
… you look unfit for life
To give bribes? Borrow? Knocking out a place in a kindergarten? Admonish a neighbor who prefers to use a drill strictly at 7 in the morning and to the accompaniment of Metallica? Well, I do not! Usually a good guy respects himself too much to stoop to such a thing! Is it necessary to clarify that someone still has to take on the function of "guy with iron eggs". And this "someone", according to ancient tradition, will be a woman.