Tricky gifts for March 8
By the way, we guess about the origin of various wrecking gifts, therefore we are not offended. The scary word "must" is to blame for everything, which can destroy even the most stress-resistant guys of romantics and Rockefellers. The collective masculine mind and propaganda posters hung around the city tell you that women meekly waited for their rightful holiday for 364 days, so you simply have to give them the opportunity to feel their gender identity. Having flown into the store on the eve of March 8, the man finds himself in a crowd of brothers in his mind, who have the words "Come on!" In bold across the forehead. Hurry up! Take it! Grab it! " How can one not succumb to mass psychosis and buy a liter of perfume and a bulky plush freak, whose place is in the horror room, but certainly not in the girl's bedroom?
If you do not mind (well, please, for the sake of the bright holiday of March 8!), I will speak out about trouble-free teddy bears, cosmetic sets with a tempting inscription "20% free" and four more types of universal gifts to protect you from annoying misfires.
Traditional
To begin with, flowers are not a gift, but a voluntary-compulsory addition to a gift. And this addition should not rustle with five layers of cellophane and be decorated with shells, ribbons and plastic angels. Every fool can come to the store and request from the window the largest bouquet, but what's the point? With these ten-kilogram ikebans, only go to the tax office to bow, and not to the romantically-minded young lady. Do not hesitate: the more expensive this fake composition gets, the more offensive the girl will be. Firstly, a million red roses will block access to the bathroom for a long time. And secondly, although we are not good at mathematics, we quickly calculate how many times this money could go to the solarium and how many pairs of new shoes to buy. It is much more correct for you to take an active part in the process of gathering a bouquet yourself. Yes, and do not worry about claims to quality: the less you understand floristry, the more the young lady will be touched.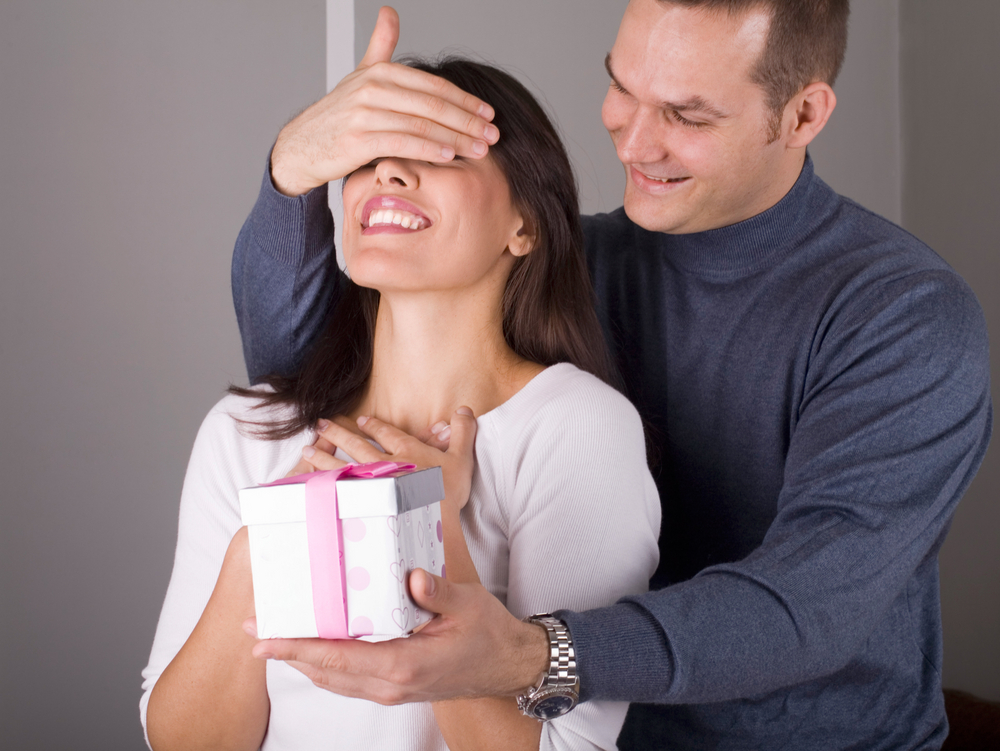 Plush
I'll tell you a secret: the scale of our sentimentality regarding soft toys is greatly exaggerated. Not every girl is able to fall into a fit of tenderness at the sight of a two-meter elephant, for the transportation of which it will be necessary to call a team of movers. Between ourselves, we call all these plush monsters "dust collectors." Got a thought? The larger the toy, the more tiresome it is to keep clean and the more difficult it is to attach it at the head of the bed to fall asleep with the thought of you. No, of course, in the case of the accelerating elephant, the girl will remember you regularly (stumbling over him several times a day), but for the most part it is obscene. Only something very nice and stupid can melt a woman's heart, so much so that even the seller will be at a loss to tell you from which planet this fat-bellied newcomer is.
Yes, and it should be a really soft (!) Toy, and not a hare stuffed with microcircuits and batteries. Animals, singing songs and cheerfully waving their paws, impress girls under the age of four.
Cosmetic
A dangerous territory, because you risk buying not what you need. Do you think the main thing is to learn the password of some "Chanel" there and an amazing gift in your pocket? There it was! There are so many of these "chanels" that the probability of guessing the right flavor is less than beating the casino. But the really necessary means – cream from the circles under the eyes, express lifting for the eyelids, anti-cellulite wrap and shampoo for weakened hair – should not be given under any circumstances. That is, it's so impossible that it's better for you to gird yourself with a ribbon than to show up with a miracle remedy, thanks to which even Cindy Crawford looks like a girl. Do not hesitate in receiving the advertised bubble as a gift, the girl will cry until she has these very wrinkles and circles under her eyes. And all because she finally realized how unlucky you were with her. Giving her a slimming cream means she is fat; deodorant – subtly hinting that you are not happy with its smell; dandruff shampoo – tomorrow she will get a haircut as a nun. The only harmless present is a baby cream, but the maximum that it will do is use shoe polish.
Erotic
There is nothing more touching than a man landing in the department of women's underwear. These are your magical passes with your hands, thanks to which everyone present will understand what your girlfriend Pamela Anderson is; timid requests to show "something completely lace and transparent" and a victorious march to the checkout with three ribbons at the price of a used car … Do not hesitate, the young lady will appreciate your heroism. But you should not expect that she will show you a new thing earlier than in a week (during this time the girl will have time to exchange the set of clothes you bought for the same, only with pearl buttons and the right size). In order to avoid overlays, I advise you to pay attention to less complicated tailored wardrobe details: peignoirs, dressing gowns and other lovely little things.
Technogenic
The theory that the best gift is the one you yourself are sorry to part with does not work in this case. Therefore, you do not need to look completely by chance in search of a gift in a hardware store or in the auto parts market. Least of all, the girl on the eve of March 8 is worried that she has condensation in her carburetor. If you really want to give her something with buttons, let it be a smartphone. But not the one with a huge screen for 2 SIM-cards, but compact, pinkish and with pebbles. And don't try to grab her instructions with shouts: "Let me explain everything to you right now!" This is her gift, not yours, so a girl can wear it just as an accessory.
Household
Would it have occurred to you to give a girl a broom or a package of washing powder? And why did you decide that she would be delighted with a book about tasty and healthy food, a food processor or a vacuum cleaner (especially if it comes complete with an elephant from point 2)? It is only in your dreams that a girlfriend from a low start will rush into the kitchen to immediately try out all 15 nozzles and 555 new recipes. No matter how much you explain that in this way you want to save her strength, time and manicure, you will not be forgiven. Having received another miracle of household appliances as a present, any girl will feel like an improved version of this combine itself. If even on March 8 you allow yourself offensive chauvinistic hints, what should she expect the remaining 364 days a year?