5 best ways to get to know women
Make an exception for her
Well, or pretend that you made an exception. I have repeatedly mentioned that girls like to feel special. Yes, it's so inappropriately good and attractive that you are ready to break any of the hundreds of your sacred male taboos or rules. And from this point of view, any – even the most banal – flirting on the street will look an order of magnitude less banal in the eyes of a woman if you start your acquaintance with the phrase: "I don't know what came upon me … Usually I don't get acquainted with girls like this … "The main thing is to make honest eyes and a little bewildered look.
To enhance the effect, you can still run a little after the girl: they say that you sat on a bench / walked / shot a slingshot at cops, did not think about anything like that – and then I saw Her and literally could not resist. Succumbed to momentum. I didn't give a damn about the fact that you can look from the side by an awkward, breathless nerd. I didn't give a damn, just not to miss the chance to meet you!
To say that women are flattered is to keep silent. And flattered and moved girls, with rare exceptions, are not able to say: "No. Not interested. Get away from me immediately, or I will sprinkle pepper spray on your face. "
Feminism in its perverted form, when you can be called a gaddy hater for holding a brother-in-law, and for a coat served to a lady, they can be dragged through the courts – nothing more than a movie stamp. In ordinary life, we real women are completely adequate and, as a rule, are sincerely sympathetic to men who are able to understand that we may need help.
For guys who see that the girl, for example, doesn't pick up the phone, and she rushes along the platform in the subway in search of a signal, like a crazy squirrel, they come up and offer to use their device. Or, in a traffic jam, they signal the lady at the wheel with a flat tire, and then they are called to escort the unfortunate woman to the nearest tire service. Or offer a discount card at the checkout if the stranger has forgotten her. Or are you ready to change tables in a cafe, if the girl is shrinking and freezing, sitting on a draft by the door. Of course, this is a bit more energy-consuming than swiping in the Tinder. But it is also obvious that such acquaintances promise you something more than another "match".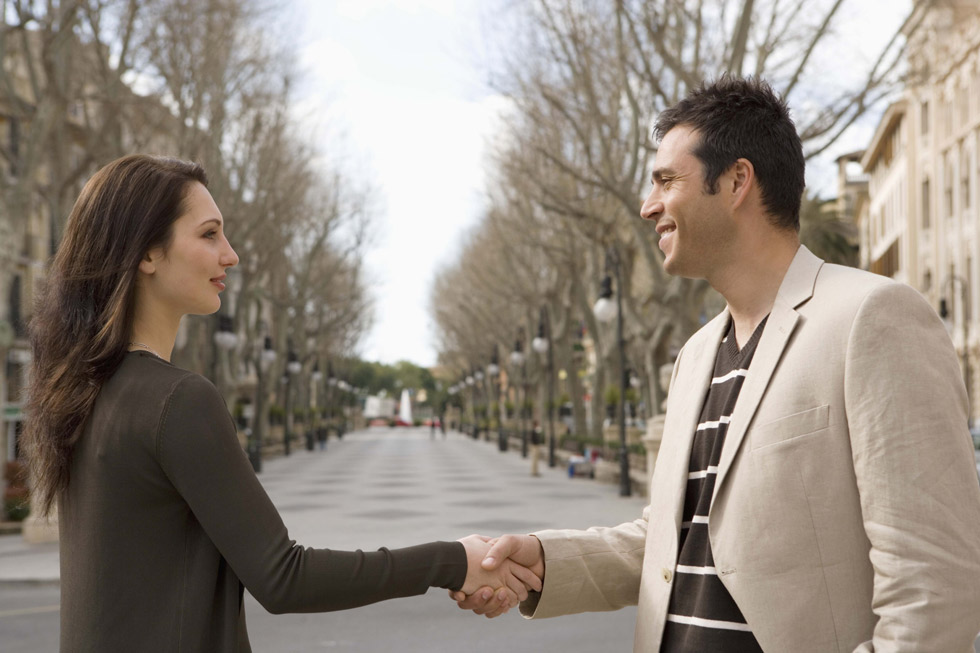 For example, you are standing in line at a coffee shop for a girl whom you would hypothetically not mind meeting. And you ask: "I don't drink coffee at all, but today I wanted something. I do not understand the varieties and names. What would you take to make it tasty and invigorating? " At the same time, you turn and speak, rather, into space than directly to a stranger. Turned around? Perfectly! If you pass at least sighting face control, a conversation about how to give drink will begin. Well, then nothing prevents you, for example, throwing a bait about the fact that, although you don't understand coffee, you know the place where they make the right yellow Chinese tea, Junshan Yinzhen, and you will be happy to arrange a tour for her.
Speaking into space, although it gives a little schizophrenia, but in general – a good entry for dating. You can just say something, without even looking at the girl, about the place where you are both, or about the situation you are in ("Yes, a little wrong I imagined the zombie apocalypse …" ) After a particularly successful remark, turn in her direction to check the reaction – she smiled or not. And then, with a radiant smile, answer back and just say: "Hello."
Take advantage of the fact that she, like you, misses in traffic
The main rule of any successful meeting: if you drive to a girl, then only in that location and in the situation where you yourself feel at ease. Well, or in your "vessel" – if we talk about dating in traffic jams, which, by the way, is quite a working idea. As a rule, while driving a personal car, you guys feel calm and confident. And this is the most correct background for making acquaintances.
There is nothing complicated in lowering the window, smiling and holding out a stranger and even a pack of chips – say, help yourself. Well, or wait for the red traffic light, jump out of the car and put your business card in the window (magazine, chocolate bar, with a phone number scratched on the cover / wrapper). Cute, funny and sure to make the girl smile. And if she accepts the call and sends you a text message, don't give up and offer the next move to park and sit out the traffic jam in the nearest cafe.
By the way, about the phones. To ask for "give a number" was considered unfashionable even in those days when my grandmother was still a ruddy schoolgirl. And by the standards of modern girls, this is vulgar archaism, with which perhaps only "Does your mom need a son-in-law?"
It is much more charming when a guy leaves his room. For example, with a remark in the spirit: "I don't like to be intrusive, and why do I need the next dentistry number – you girls usually do this when you want to get rid of a molesting guy? If you want to please me and, in principle, communicate, send me a comma. And then I myself will enter into my dominant responsibilities. "