12 of your mistakes when meeting on social networks
Do not put "reportage" photos on the avatar
A naked torso, sun glasses, a bar, on which you danced rather weakly at a corporate party, or a Bugatti from an auto show from which you were not immediately driven away – with the seeming masculinity all these details absolutely will not paint you. The statistics is inexorable: girls often click on pages with large smiling portraits (they, again, are easier to notice during a casual look at the list of other people's friends). A face, a smile, a good light – at first nothing is needed. So bribe a familiar photographer – he will remove you in the best possible way. Do not retouch the photo. You have to be recognizable, so no games with perspective, makeup and wigs.
Hide extra photo albums and videos
At first, the girl does not have to know the story of your life in pictures. When meeting online, your photos are 80% of the information about you. Photos with other girls are a rather dangerous tool (even if your sister or the accountant of the strip casino that you own in the picture): in someone they will awaken a healthy rivalry, but most of the visitors will be forever turned away from your page. In this sense, only porn can compete in strength and ambiguity with them. Leave the album with pictures that somehow characterize you from the best side. An ideal recipe: you are at work at the moment of success or violent activity, you are in the circle of friends or relatives (so your sociopathy will not bulge out), you are busy with something other than work … In all these pictures you should, of course, be sober. You can also shoot them staged – then just do not look into the camera to imitate the effect of "peeping."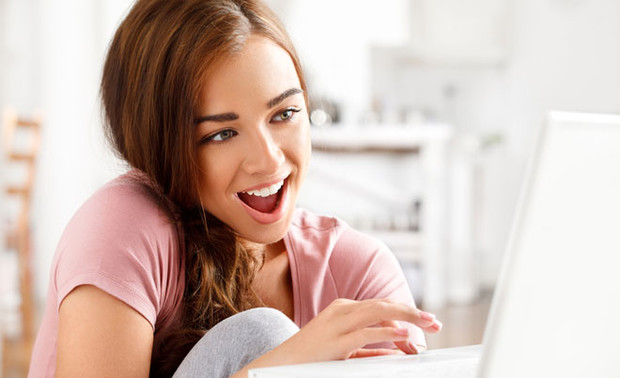 Hide or delete unnecessary comments
By the way, tattoo this advice on your monitor altogether – the habit of erasing notes on the wall in advance "baby, it was super" (and the corresponding photo report) will come in handy even after you find a more or less permanent partner on the network. So that the recording tape after cleaning does not look naked, write more yourself and ask your male friends to leave more comments and different nonsense on your page. The ideal balance should look like this: 50% of records from other men, 40% – from women, but non-criminal in nature (recommendations for TV shows, congratulations on stupid holidays, questions about work), 10% to the extent of provocative records that you wouldn't clean up ( compliments to photos and postcard jokes with a sexual connotation).
Many of them are created by spammers, children or perverts, hanging photos of a chic model on ava to attract people like you. First, learn how to "punch" a photo in Google – throw a picture in the photo search and see. If she has been surfing the net for a long time and is present in hundreds of profiles, including the ads of prostitutes – this is 100% fake. If the photo is not searched by Google, but the girl has only one album, all the photos in which are uploaded at once – this is 90% fake. Look at its wall, in the list of friends or in the comments to the photos. You should be alerted if they are all abandoned by men, and there are almost no girls among her friends. In any normal girl, the balance of friends and girlfriends is maintained at least approximately. In addition, the block of interests should be filled at least a little, otherwise, even if it turns out to be a real person, you are unlikely to find a reason to speak with her.
Of course, it is important to carefully select those to whom you write. However, no matter how you look at first glance, half of the respondents will not answer you or add to your friends. This is a harsh reality. You should not be persistent here. Just expand your search or try other options. Expand your interests, cling to any coincidence. Sometimes you can add a long-legged damsel that is completely unsuitable for you at first glance – in the end, you both like her legs! Add, add, add – and be sure to answer everyone who reciprocated with you. Women usually answer your requests, guided by a rather strange logic. Sooner or later you are lucky: you should not waste time on a futile one.
Be careful with girlfriends!
Never comment on photos and videos of girls who know each other, do not write on their walls at the same time and do not send them messages, especially those compiled according to one template. Otherwise, wait for a message asking: "How do you know Casey?" And this is one of those questions that, like, "I'm fat?" – it is difficult to give the right answer right away.
Do not rush to knock on a girl if she's not alone on the avatar (especially with a guy), even if you looked at her albums (you need to look through them, you can make a more or less adequate picture of a girl only by 15-20 photos). You always run the risk of hearing a reasonable question: "And who are you talking to at all?" The same applies to the situation if only the eye or the priest is visible on the avatar, or you can't see the face, or there's a Pokemon. Leave the page in bookmarks and come back in a week, maybe it will change the photo to something more integral, then get acquainted.
This flatter the girls, and you seem older. (Or she seems to herself more mature if you are already an adult.) At the same time, then there will be an occasion to virtually "transfer relations to a new level," by going to you.
To speed up the process, copy to the clipboard a non-binding phrase like: "Hello! I have never seen such wonderful, rare beauty. Of course, you don't care about me. But maybe there is a chance to make friends? "And with a similar phrase, knock on everyone. Experience shows that only 0.5% (if you select the right candidates) will send you away. The answer in 80% of cases will also be the same. For example, almost all the girls will answer the above phrase: "There is always a chance." You can also answer this with a prepared phrase: "I am extremely glad that I am with you as friends." Next, you will receive a response emoticon. Here it is – an invitation to communication. If they answered at least something to any first stupidity – there really is a chance. Always.
Do not write "illiterate"
Many girls can be pushed away by your ignorance. In ordinary life you can hide it, but here the text is something like your clothes. And different mistakes – like spots on the shirt. And not even from mustard, but from brains, which obviously have not been reported to you. Some networks have a built-in spell checker, do not neglect this tool.
During the first two weeks, try to conduct active correspondence. And remember: all this is done in order to meet in person. Virtual dating does not live long. About a month passes (the relationship is less likely to last longer), and the connection fades away, you correspond more and more rarely, then you stop completely. Or the girl begins to answer with short phrases "Everything is OK. How are you? "It is important to make an appointment to this moment. Otherwise, the chance is lost. Although, of course, you should not be too intrusive.
Make an appointment trickier
As soon as you understand that the contact has been established, and the girl honestly tells how she is doing, and shares her personal – start throwing more often, they say, you are going to go to the first lesson in badminton. One, so as not to disgrace … Although, maybe it would be more fun to start together, otherwise you will suddenly quit after the first lesson. Something like that. At some point after a couple of such throws, ask what she does that day, and then unobtrusively: "join in," "let's get together, at the same time, and get to know each other," "I think it's time to start talking in real life." Be sure to ask for a phone number and make an appointment out loud. This is an extra guarantee that the girl will come at all. Because for many, the Internet is like Vegas. What happens on the network remains there. A word spoken aloud is already a form of spell.