Bring the girl to perfection
I will tell you how to upgrade your girl model. Even if she's not quite a model.
How to improve your girlfriend:
We agree immediately – you must forget the words "fat", "full" and "whitewashed" (even if you did not know them before). If you want your girlfriend to lose weight, in no case do not tell her directly about it … "boor and beast!" Better use the maneuver. Stand in front of the mirror and begin to sigh with sorrow that you seem to have recovered. The projection mechanism will work for the girl – she will immediately think, but has she recovered? And she will probably decide that removing a couple of kilograms will not hurt. Another dishonorable maneuver: sign up for a fitness club and start going there (there is also a bar and televisions there). And then tell her that there are completely narcissistic pitching – there is no one to even insure you during a difficult exercise. In extreme cases, save a tale about a familiar instructor girl. Out of sympathy or jealousy, a friend will one day ask to take her with her.
With interchangeable panels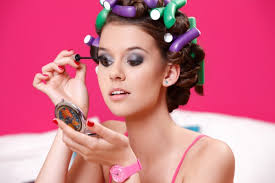 Your young lady can boast an enviable figure, the right proportions and even a beautiful navel shape. But the trouble is, she carefully packs this form, like everything else, in two layers of discreet muslin, and throws a shawl on top. And all because my mother at one time inspired her with an aversion to everything lace and translucent. How to make a girl change her chaste outfits to something sexy? Offer her shopping (under the pretext that you need new shoelaces). Inside the shopping center, you just need to send the girl to the right store. No pressure. You can use streamlined wording, something like "It's just interesting how it will look on you." It is possible that the girl will fall for this trick and in excitement will buy something suitable. Fix the result! Bring her to the light. Give her compliments and generally flatter her vanity in every way – they say everyone is looking at her, and you are already beginning to be jealous. Support her in a few more sorties to the store. And then she somehow somehow …
Your girlfriend is not the only one – almost a third of women in the fall stop shaving their legs. Obviously waiting for the cold weather. You can answer her the same way and begin to accumulate subcutaneous fat. Although by this you will achieve nothing but mutual alienation. We must again resort to projection. Just do not complain about your own hairy legs. Just say when you have to say: "I remember, one girl with terribly hairy legs studied with me." And even better – find on the Internet a photo of such a girl and call your girlfriend "look at this horror."
As for the bikini zone, then there is no trouble with it. Take the girl to the sea, after giving her a swimsuit with a narrow lower part. Just make no mistake with the size, otherwise you will have to look for another mistress for a swimsuit. And start all over again.