How to go on vacation with a girl(2)
Romance
Three hundred sixty days a year, we are ready to put up with what you men, cynics and pragmatists are. Yes, we understand and justify you. However, on vacation you will have to work hard. You may not know, but there is an unspoken competition between all the spa guests for the title of the most romantic couple. Mostly girls compete, and their cavaliers are assigned the honorable role of inventory. And you will be shameless cattle if you do not help your lady win. Get ready for the fact that you will have to give in to romantic impulses often, in public and following only time-tested schemes.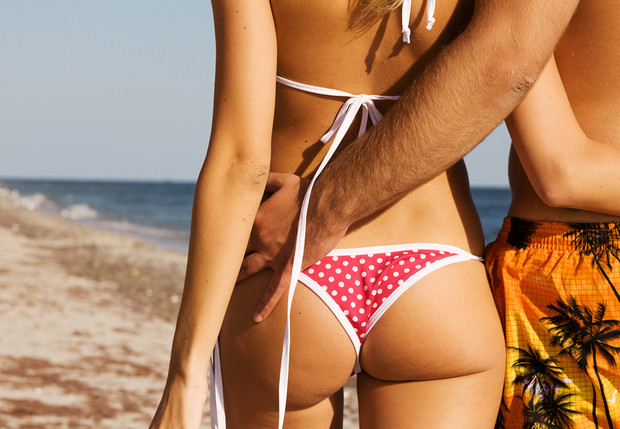 If somewhere nearby there is a pond suitable for swimming, you will have to flounder in the water together and weigh each other wet kisses, turning into petting. A ski resort means you have to play snowballs and wallow in snowdrifts. Sightseeing tour – pacing to the sights and humbly holding hands. Yes, so you know, hands are generally the main tool of romance. Wherever allowed by the local Criminal Code, religion and sanitary standards, you should not let her palm out of yours. The most important points are take-off and landing of the aircraft, as well as any walks along the beach.
Life hack: And if you are too lazy to squeeze out a drop of romance from yourself, you can fulfill the annual plan for this matter by playing a fake wedding. In some resort areas, natives have long been prone to make money on gullible couples. A thousand bucks (or rupees) – and at your disposal for the whole evening will be a white chapel or boat, loaded with flowers, plus color, music, champagne, etc. The special charm of such ceremonies is that they have no legal force!
Injuries
Even if you do not plan to rafting along mountain rivers and live in the jungle, despising the benefits of civilization, injuries are inevitable. I bet you will certainly step on a sea urchin, find yourself at noon without a panama, get a concussion, ride a "banana", or at least rub your foot with sandals. And believe me, this is the best you can do, because we just need to play ambulance (all the other role-playing nursing games that we agree to are already curtsy). Once you get injured, the girl will automatically turn on a flashing light and there will be bandages.
You, as a victim, are supposed to be touching, helpless and accept suffering courageously, without unnecessary whining. The border is thin: asking for a blow on a bite leg is possible and even necessary, but demanding relanium is already whining. You yourself will understand when the time comes to finish this whole booth. As soon as the reassuring remarks "Well be patient, my sweetie" are replaced by the more familiar "Nobody has died of this yet" – it's time to come to life. If a girl from the very beginning reacts to your injury with the phrase number two, then you moan unconvincingly. Try to step on the hedgehog again, only for real.
Force Majeure
The phrase "What should we do now?", Said by a woman in any language of the world, always means only one thing: "You have to come up with something!" And in those fractions of a second, while you are convulsively thinking how to save this fucking world from chaos , we understand who we've contacted. There are few options. More precisely, two. Either you are a hero, or everyone else. Whatever the matter (we missed the flight, ate poorly prepared puffer fish, encountered carabinieri at the border, having three kilograms of selected marijuana with us), the hero, according to our deep female conviction, behaves as follows.
Firstly, he does not yell or question one hundred times what everyone already understands. The phrase "Are you sure we were late?", Said at the moment when the plane had waved us its silver wing for three hours, does not sound very encouraging. Secondly, he heroes alone, having previously said: "Baby, wait for me here." Thirdly, when the situation is resolved in our favor, he does not get drunk on joys and does not ring friends to brag about, but with anxiety in his eyes, which appeared for the first time since the world was plunged into chaos, he asks us: "My baby, you were completely scared , yes?"
P. S. If the upcoming joint vacation is not the first in your life with a girl, nothing prevents you from making it perfect. In the end, you need to someday begin to justify the trust placed in you.